1) Comment to this and I will give you 3 people.
2) Post this meme with your answers.
3) Provide pictures and the names of 3 people.
4) Label which you would marry, shag, and throw off a cliff.
From Ellia
John Sheppard
John Crichton
John Casey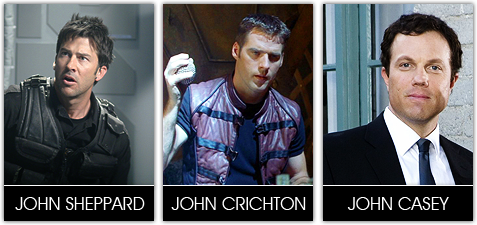 MARRYJohn Sheppard
Because he's just adorable, I don't know, John Sheppard is sweet and a smart guy, brave, ironic, sarcastic, has a great humor sense ... the guy you must kiss always you have an opportunity. I love him, that's all.
(Porque es sencillamente adorable, no sé, John Sheppard es muy dulce, muy inteligente y valiente, además es el típico tío que es callado y que solamente dice cosas sensatas, es muy divertido y es un hombre al que podrías estar constantemente besándole).
SHAGJohn Crichton
He's John Crichton, he's crazy, really crazy, but he's very intelligent. People underestimate him so much because for them John Crichton is an inferior human being, maybe less evolved that all of them but he always is ready for show them that he's more than a beautiful face. He likes strong emotions :-P Have I said he's crazy?
(Es John Crichton, está chiflado, no tiene vergüenza y es muy inteligente. La gente que le rodea siempre se subestima considerándolo como un ser inferior a ellos, menos evolucionado pero John siempre les demuestra que está listo para todo, que es más que una cara bonita. Le encantan las emociones fuertes, y le va la marcha :-P)
THROW OF A CLIFFJohn Casey
I like John Casey but he's too bad with Chuck sometimes because he's really afraid to show Chuck that he appreciates him and that he consideres Chuck a good friend.
(Me gusta John Casey pero a veces es un poco cabrón con Chuck porque creo que en realidad tiene miedo a demostrarle que es su amigo, Chuck si le considera su amigo, pero Casey tal vez deja que su deber se anteponga a su amistad con Chuck).
From

sracheg
Faramir
Daniel Jackson
Cameron Mitchell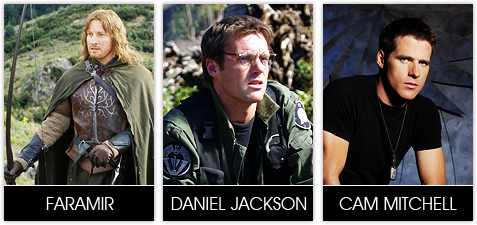 MARRYFaramir
I have not doubts in this question, Faramir is my fav character of The Lord Of the Rings and I consider him the true Middle Earth Hero because with Aragorn he has been the only one capable of resist the power of the ring. I think he could be the perfect husband because he is shy, intelligent and a great leader loved by all his people.
(No tengo dudas en este aspecto. Faramir es mi personaje favorito de El Señor de los Anillos, considero que es el verdadero héroe de la Tierra Media porque junto con Aragaron ha sido el único capa de resistir el poder del anillo. Estoy convencida de que sería un marido perfecto porque es tímido, callado, muy inteligente y un gran líder al que todo su pueblo ama).
SNAGCameron Mitchell
I'm pretty sure he will be very pleased with snagging him *lol*. Cameron Mitchell is a funny man ... damn it! what can I say of this man? million of things.
(Cameron Mitchell es Cameron Mitchell, es único en su especie, parece pasota porque siempre va mostrando su cara más divertido, es el optimismo en persona, de este hombre podrían decirse millones de cosas).
THROW OF A CLIFFDaniel Jackson
I like Daniel Jackson so much he always has been one of my favourites characters of Stargate SG·1 but in occasions he can be a pain in the ass.
(Daniel, ains, Daniel, me encanta Daniel, de hecho siempre ha sido uno de mis personajes favoritos de Stargate, pero a veces puede ser un auténtico dolor de cabeza).